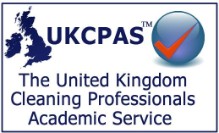 Delivering Standards, Confidence & Accreditation
Welcome to the UK Cleaning Professionals Academic Service Ltd!
The United Kingdom Cleaning Professionals Academic Service (UKCPAS™ Ltd) is an awarding body providing qualifications, quality standards and a modern, business friendly approach to the Cleaning Industry.
Accreditation by UKCPAS™ demonstrates that a company has met set standards of business competence, maintenance and continuous improvement of its performance and in servicing contracts.
UKCPAS™ is a limited company by guarantee, and operates under a Memorandum of Association.
Key to UKCPAS™ business forward planning, will be the partnership working with key industry partners, to develop and find creative solutions to improving and raising the professionalism and profile of the sector.
New Business Start-Ups:-
If you have just started a new cleaning company, and need advice on quality standards, training and accreditation, please get in touch with us.
We are working with:-
♦ Schools
♦ Colleges
♦ NHS
♦ Industrial Cleaning Companies
♦ SME's
♦ Prison Service
♦ Training Companies
♦ Local Government
UK register for learning providers: UKRLP No. 10033137
Please click here to download our Customer Charter
Contact Details:-
Leighton House
Wellingborough
NN8 3HF
United Kingdom
+44 (0) 7734815282 or +44 (0) 7557271200

Follow us on twitter